04 Nov

Guest Spotlight- MadMollCosplay

Hello everyone!  This week we have something special for you – a blog from a cosplayer we met back at AwesomeCon!  You may recognize them from our Instagram post yesterday, but Moll also used our binder for their punisher cosplay back when we were in DC.  Moll also agreed to write a piece up about some steps taken to create the cosplay, so without further ado I present our first guest spotlight: MadMollCosplay!

–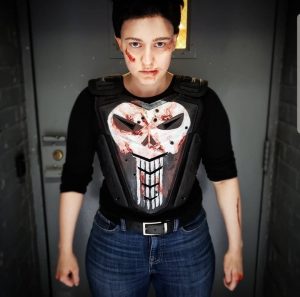 Hi Everyone!  I'm Moll, and I've been cosplaying/crossplaying for years.  I'm most well known for my Captain America cosplays, but today I'm going to talk about making my Punisher cosplay.  I look nothing like the Punisher, but I wanted to match my partner's Billy Russo cosplay for a photo with Jon Bernthal.  Most of the costume is pretty normal clothing that I already had (jeans, black shirt, combat boots) so all I needed to get was a new binder, a wig, and the armor.  
To make the armor, I bought a black plastic motorcycle chest protector.  They're pretty cheap, and come in different sizes and styles. I chose one with holes where the skull logo's eyes would be.  First I painted the skull, then I scraped it along the sidewalk after it had dried to add some scratches. The Punisher tends to get shot a lot, so I added some "bullet holes" by drilling through the plastic.  I sponged on some fake blood, and that was it!
I definitely needed a new binder, because my old one was uncomfortable, didn't breathe at all, and only had one tightness setting…but I procrastinated (oops) and didn't order one.  I had resigned myself to being uncomfortable all weekend when I saw that B UR SLF had a booth at the convention! I loved that I could try on the binder before purchasing, and was so excited to get one the day before my photo op.
Cosplaying at a convention can be exhausting and physically demanding.  I almost always end up carrying heavy props, wearing bikinis in winter and leather in the summer.  Having a comfortable binder as the base for my crossplays is wonderful! Even if the rest of me is sore during a con, I'm so glad I can breathe comfortably.
You can follow me on Instagram and tumblr @MadMollCosplay
You can follow the Billy Russo in the last picture on Instagram @sgtbuckybear