06 Jul

Maker's Monday: Leg Armor

Hello everyone!  Happy monday and welcome back to another installment of maker's Monday.  This week we're working on some miscellaneous armor pieces for Velvari.  

A quick thing to note before we get started: in my original post when I showed both of the designs Velvari's only armor visible were the guards on his arms and boots.  I have since tweaked the design just a bit to give him a little more coverage due to his background.  As you can see in his updated design he also has studded leather pieces on his thighs now.  Gotta protect yourself from those low shots after all.  

So gather up your inspiration pics and let's get to work!  We'll be using the usual suspects but in case this is your first time reading here's the list: 5mm craft foam, something to cut, contact cement, acrylic paint, googly eyes, modge podge, & some nylon strapping. 
Velvari wears studded leather armor.  It looks neat, it gives him a better AC than Leo, but the way I make it is a bit of a pain.  By now you might realize I hate waiting games and attaching a bunch of googly eyes to armor one at a time with hot glue is more than a little tedious.  Be prepared for that if you choose to do your armor that way.  And remember to count out the sections you need in advance to make sure 
You have enough 

You're not constantly pulling from a container and risking spilling the entire thing.  
Before you can get around to that though first you'll have to actually build the pieces you're attaching them to.  All of Vel's armor has a layered look to it.  For me that usually means I take one set of measurements and then they end up a little smaller than originally intended because I forgot to account for how the pieces would attach.  I've come to terms with it.  The important part here is that each of my thigh pieces requires 3 separate pieces of foam, and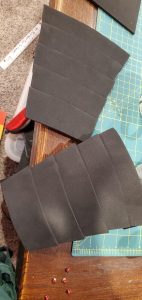 each boot cover requires five.  They're relatively simple shapes so instead of making patterns for them I just went through the process of getting one side made and then tracing it down for the other side.  
From there I mark where I'll be attaching everything together and start slapping down some contact cement.  Once the pieces are put together I'll be counting out how many studs I want per piece and begin gluing them on.  After everything is attached you'll hit it with some heat so it'll be easier to bend later and start painting.  Velvari is a bard, so the armor I'm making for him gets to be a warmer and brighter brown than the one I used for Leo, but that means it'll take more time to paint because I'll have to use more layers on the black foam.  I believe in the end it tallied up to 3 before I sealed the paint in with modge podge.  
Once they are dry from all the painting and sealing, all that will be left to do is create your attachment systems!  I'm running a little low on supplies to do this at the moment, but rest assured I'll post an update when I have them ready!  
Next week Maker's Monday will be another guest post, this time from Labinnak Cosplay!
We hope to see you then!