13 Jul

Guest Spotlight: Mangoloo from Labinnak & Mangoloo Cosplays – Pushing through Failure to Fuel Creativity.
Today we are lucky to have an excellent guest post from Labinnak & Magoloo Cosplays.  Recently Mangoloo wrote an awesome IG post about facing failure and how it happens to all of us.  Read on and be encouraged that great failures can result in great creativity – B.UR.SLF
–
Something I feel needs to be discussed more in the cosplay community is failure.  On social media we are used to seeing well crafted or finished costumes and props.  No matter how beautiful or well crafted the piece is – what we often don't see is how many failures the creator made before finally making something they are happy with.
Putting so much work into something that turns out not how you expected sucks and can be discouraging especially when you see so many others being successful with their projects.  Although in reality everyone has their own struggles and failures.  No one is born with the perfect skills to create something without any failure.  If anything, what's nice about creating is that there is no rule against re-making something.  You don't necessarily have to be "finished".  Instead you can return to a project – knowing the failures and making improvements.
Personally I post a lot of my RWBY Ruby Rose cosplays – recently I finished my V7 outfit which got a ton of praise. 
While so many people think it's well made – what they don't know is how many times I made mistakes.  For instance the toe caps for the shoes – I had to remake those three times due to sizing and shape issues.  Interestingly enough after putting them next to each other I realized progressively I made improvements.  First with addressing shape issues and then size.  In the end I came up with something that matched what I was looking for.  Although looking at a photo from a photoshoot you wouldn't have even guessed that I had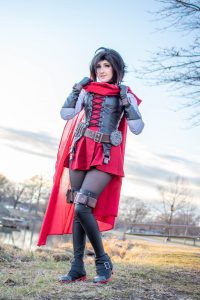 any issues.  And it's not even just my Ruby cosplay – I fail all the time!  Every single cosplay I have put together – I make mistakes even with all the 7+ years of experience I have.
Failures happen more often than you think to everyone no matter if you are a newbie or a pro.  Recognizing those mistakes is the first step to growing as a creator.  It's okay to remake something – in fact keep making improvements until you are proud of what you made!  Never let failure discourage you – instead make it the fuel to keep you growing as a creator!
–
You can follow Mangoloo on these platforms:
Instagram @ Labinnak
Twitter @ LMcosplays
Facebook.com/LMcosplays
The photos provided for this article were taken by JakeScribbles on Instagram.
Please be sure to go give both artists some love!